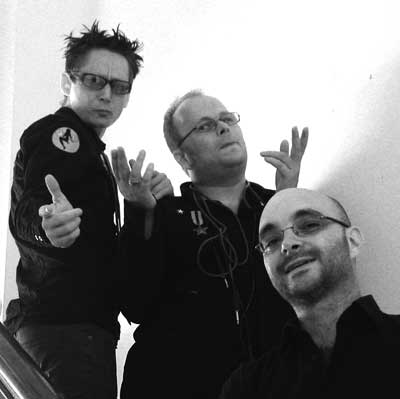 Live history of the Science Ninja Team
17 Mar 2006 - The Freebutt
"I aint dead yet motherfucker" Benefit gig for Brighton Youth Center Science Ninja Team headline +support from Martha Gunn + Mungo + DJs + Bellydancers + Poets + How cool is this going to be? Mr T presents a night of kick ass indie punk, nu-metal and Shatners Bassoon.
18 Apr 2006 - Brighton Rocks @ The Concorde 2
Featuring: The Rivers, The Lanes, Manuka, Silent Moves, Science Ninja Team, The Reveals, The X-Certs, My Last Mistake.
1 May 2006 - Prince Albert
Science Ninja Team supporting headliners and all-round superstars The Lodge
1 Jun 2006 - Pressure Point, Brighton
Electro night with Science Ninja Team supporting Holy Fuck and Metronomy
22 Jul 2006 17:00 - Providence
130 Western Road, Brighton, BN3 1DA,UK
This is the inaugural Science Ninja Field Trip. Bring a packed lunch, enough poppers to fell any rabid livestock and a big stick with some protective spells carved into it.
Coming Up:
25 Sep 2006 16:00 - Brighton Live: The Albert
Monday 25th September 8.30pm
Largo +
Science Ninja Team +
How to Tell Yourself from a Television
at The Albert
48 Trafalgar Street, Brighton
*FREE*